The only way to deliver guaranteed storage performance in public and private cloud infrastructure.
SolidFire's benchmark architecture for true storage Quality of Service (QoS).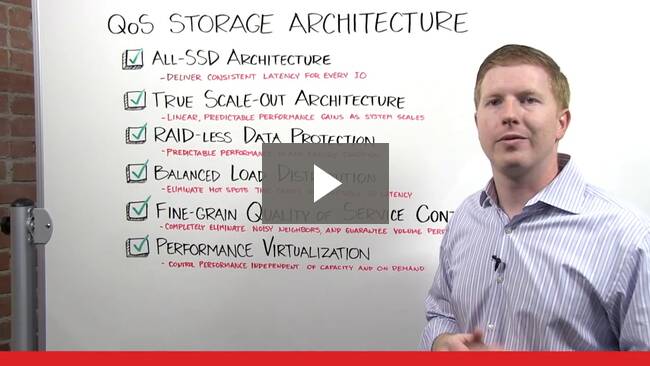 To profitably deliver predictable application performance in a multi-tenant setting, you need a storage system capable of delivering guaranteed Quality of Service (QoS). Rate limiting, prioritization schemes, and tiering algorithms are all afterthoughts attempting to overcome limitations in storage systems that were never designed to deliver predictable performance in the first place.
Quality of Service is not a feature.
It is an architecture.
Adding QoS features to an existing storage platform is just a temporary patch for a much larger problem. These features may solve one performance bottleneck under an isolated condition, but this approach falls apart at cloud scale as conditions multiply across a multi-tenant infrastructure. A true solution requires a purpose-built storage architecture that solves performance problems comprehensively, not individually.
With our benchmark storage architecture, SolidFire set the standard for delivering an exact level of performance and bandwidth within multi-tenant infrastructures. We built our storage architecture from the ground up to allow cloud providers to guarantee performance despite tenant activities or failure conditions, a solution made possible only through six core architectural elements:
All-SSD Media

Enables the delivery of consistent latency for every IO

Without an all-SSD architecture, guaranteeing Quality of Service (QoS) is impossible. Tiered and hybrid disk solutions are all subject to unpredictable, rapid changes in IO latency that prevent predictable performance.

True Scale-out Architecture

Allows for linear, predictable performance gains as systems scale

True Quality of Service (QoS) requires that storage systems are always aware of the total available performance. As systems scale, they must be capable of increasing both capacity and performance independently and in a predictably linear pattern.

RAID-less Data Protection

Ensures predictable performance in any failure condition

To deliver guaranteed Quality of Service (QoS), systems must eliminate the performance variability caused by disk failures. Only RAID-less data protection delivers the predictable performance required for supporting firm performance SLAs.

Balanced Load Distribution

Eliminates hot spots that create unpredictable IO latency

To deliver true storage QoS, systems must be capable of balancing both performance and capacity evenly across the entire system. Distribution of data based upon type – rather than location – eliminates hot spots caused by problematic application behavior.

Fine-Grain QoS Control

Completely eliminate noisy neighbors, and guarantee volume performance

True storage Quality of Service (QoS) requires a robust model for configuring QoS settings for individual volumes. The system must also accommodate bursty workloads, changing performance requirements, different IO patterns, and the possibility of over-provisioning.

Performance Virtualization

Control performance independent of capacity and on demand

Ensuring that performance resources are available on demand is essential to delivering Quality of Service. Achieving that capability requires being able to change performance levels on the fly without migrating data or affecting the performance of other applications.
Scale-out storage built to deliver guaranteed performance for public and private clouds.